Future Changes/Options for Golf Majors Pool
Jul 23, 2012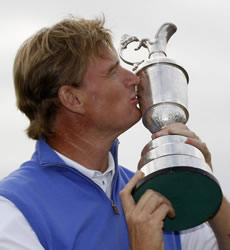 The popularity of our new Golf Majors pools for 2012 genuinely took us by surprise this year. Thanks to all of our customers for making this new format a huge success. We hope you've been enjoying the format as much as we have.
With that said, we see some huge opportunities for improvement. With help from our customers, we've identified a couple of options we think could significantly improve this pool format. Keep in mind that these would be OPTIONS for your pool. If you like the format just  as it is, you don't need to use any of these:
Pick Restrictions—One option we are strongly considering is to restrict pool members to only picking a player once per year. This would prevent members from picking, for example, Tiger Woods in every single major. This would add a bit of strategy in making your picks, knowing that if you take a player in the Masters, he would be unavailable to you for the other Majors.
Bonuses for Finishing Position—With the current format, there isn't a huge benefit to picking the winning PGA player (or any of the top finishers, for that matter). A pool member can win a Major by without even having anyone in the top 10. We're proposing an option where bonus points could be assigned by the Pool Administrator for top finishing positions. For example, everyone who picks the tournament winning PGA player could get -20 strokes from their cumulative total, 2nd place -10 points, etc. Of course, the Administrator would be able to assign these bonuses themselves.
Cut Players—You've all seen the massive effect of even having one player miss the cut. The bonuses mentioned above may mitigate that a bit, which would be a good start. We're looking for your feedback on possible changes to the scoring to lessen the effect of cut players.
Please leave your comments and suggestions below. We take our users feedback very seriously and your suggestion could have a significant impact on what we decide to implement.
Thanks everyone!