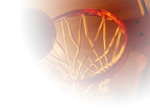 March Madness Pools for 2013
Host your NCAA Tournament Pool the easy way!
The NCAA Men's Basketball tournament is arguably the most exciting time of the year for office pools or pools among family and friends. It seems everyone is talking about their brackets, who they picked to go to the Final Four, and who their "Cinderella" team is this year. Many of you enjoy it so much, that you run your own pools. It's a lot of fun … and a lot of work. That's where RunYourPool.com comes in. Host your pool with RunYourPool.com and put our pool management service to work for you.


Types of March Madness Pools

Currently, RunYourPool.com offers three types of NCAA tournament pools:



NCAA Bracket Pool—This is the most popular NCAA Basketball Tournament pool. Players completely fill out the NCAA brackets, predicting the winner of every game. Points are awarded for every game picked correctly, with the winner having the most total points. You may set your own point value for each round of the tournament. (View Bracket Pool FAQs)



Sweet 16 Bracket Pool—Sweet 16 pools work just like normal bracket pools, except they start with Round 3 of the tournament, when the field has been cut down to 16 teams. This is a great option for those who could not get their pool organized in time for the start of the tournament or who prefer fewer games. (View more Sweet 16 Pool info)



Pick 8 Pool—Players only pick 8 teams for the entire tournament. Every time a chosen team wins, the player is awarded the number of points equivalent to the team's seed number. (View Pick8 Pool FAQs)


4 Simple Steps

Let us show you how easy we make running your 2013 March Madness pool:



Step 1 - Setup your pool
In less than 5 minutes, you provide us with all the information we need to run your pool for you. Supply us with your contact information, a pool password, and your customized pool settings.



Step 2 - Contact your pool members
After setting up your pool, you will receive a confirmation e-mail from RunYourPool.com. This email contains a pre-formatted section that you can simply forward to the people that you'd like to join your pool. It contains a link and all the information they need to join.



Step 3 - Fill out brackets
Your pool members are provided with a bulletproof bracket submission form. No more incomplete or illegible brackets, and absolutely NO work for you, as the Pool administrator, to do.



Step 4 - Enjoy the Tournament!
We take over from there. Your pool standings and all other reports are updated at the end of every day of tournament play.
Private Message Boards
Every pool hosted at RunYourPool.com now includes a free, private message board. Your pool's message board, accessible only to your pool members, is a great way to communicate throughout the Tournament.

Company and Promotional Branding

NCAA tournament pools are great promotional opportunities for your business. Whether targeting prospective clients, retaining existing clients, or just running an office pool, we now offer a way for you to enforce your company brand. This feature is now available for FREE on all pools. (More info)

Pricing

Run your pool for FREE for the first day of the tournament. After the first day, the price to continue using the service is based on the number of bracket entries (Bracket and Sweet16 pools) or members (Pick8 pools) in your pool. Our low prices differ depending on the type of pool. The following price tiers are your one-time fee for the entire NCAA tournament!


Bracket Pools

Up to 25 entries

$22.95

26 to 50 entries

$39.95

51 to 100 entries

$64.95

101 to 200 entries

$89.95

201 to 500 entries

$119.95

501 to 1000 entries

$229.95

1001 to 2000 entries

$429.95

2001 to 3000 entries

$599.95

3001 to 4000 entries

$799.95

4001 to 5000 entries

$999.95

Sweet 16 Pools

Up to 25 entries

$9.95

26 to 50 entries

$19.95

51 to 100 entries

$34.95

101 to 200 entries

$54.95

201 to 500 entries

$79.95

501 to 1000 entries

$129.95

1001 to 2000 entries

$249.95

2001 to 3000 entries

$389.95

3001 to 5000 entries

$599.95

Pick8 Pools

Up to 50 members

$19.95

51 to 100 members

$29.95

101 to 200 members

$39.95

201 to 500 members

$49.95

Over 500 members

$89.95
Start your Pool Today!

Start your March Madness pool with us today. If you have any additional questions, please contact us via e-mail. We're happy to answer any questions you may have.