The Premier Sports Pool Hosting Service
Have your pool live in minutes.
Join our free-to-play public NFL Playoff Fantasy contest, with $5500 in prizes!
Why 1M+ Users Love Our Pools
Easy Setup
Your pool will be up and running in minutes, ready to invite members.
No Obligation
Run your pool for free through the first week of the season.
Configuration Options
Lots of scoring and configuration options for the Administrator.
Online Pick Sheets
Members make picks online using our bullet-proof pick sheets.
Automatic Deadlines
Picks are locked down at the beginning of each week of games.
Real-time Updating
Standings and reports will be updated as games end.
Detailed Reporting
Pick summaries, weekly and year-to-date leaderboard, and more.
Private Message Board
Post your rules, trash talk, and communicate with other members
Sport Categories and Pool Formats
Running your NFL pool has never been so easy!
Regular season and Playoff formats available.
Choose from 8 different NFL football pool formats, which can be started at any point during the season.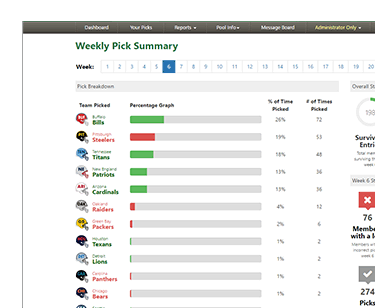 When March rolls around, be confident that your pool host is up to the task
We offer 5 different formats for the Men's NCAA Basketball Tournament. Configurable scoring options are available.
We've got your Golf pool covered from tee to green!
Multiple pool formats with many pick and scoring options.
Whether you want to run a pool for the Majors or a weekly fantasy pool, we have a format that will meet your needs.
Keep the excitement going with a season-long NBA pool!
You can start a new pool at any time during the season!
We simplify everything for not just your members, but you as well. Just spend a few minutes setting up your pool, selecting a few options, inviting members and viola! You'll have a full NBA season's worth of fun at your fingertips.
The easiest way to run your pool this Baseball Season
You can start a new pool at any time during the season!
While America's past time isn't traditionally associated with office pools, we currently offers four great baseball pool formats to choose from.
Your College Bowl pool doesn't have to feel like hard work
We'll lighten your workload and help you enjoy Bowl Season.
Make sure you're ready when the puck drops with our NHL Hockey Pools
Regular season and playoff formats available.
Run your Stanley Cup Playoff Bracket pool online this year. Our customizable scoring system allows for flexibility for the Pool Commissioner.
From group play to the knockout stage, we make it easy to run your Football (American Soccer) pool!
Run your World Cup or Euro Championship pool with us!
Enjoy the Awards Season with your own private Oscars Pool
Run it for friends & family, your office, or your clients.
One of the most watched television events of the year.
Go for the Gold!
Available for both the Summer and Winter Olympics
Create a roster of countries you think will have the best medal count.
What Customers Say About Us
We've run both a March Madness and a Pro Football Pool through RunYourPool.com. It's easy to set-up and easy for the players to use (with over 1000 players, that was very important to us). But what I was most impressed with compared to other sites we have used, is the quick response we received if we had any questions or concerns. Top notch service.
–Panama Jack, Program Director, WGLX Radio, Wisconsin Rapids, WI.
The amount of time I saved using RunYourPool.com made the service worth every penny. I ran my NCAA basketball pool and my NFL pool with RunYourPool.com this year, and both went off without a hitch ... something that's never happened before! Great customer service, too. I would highly recommend RunYourPool.com to anyone who is tired of running their pool by hand.
–Steve Jordan, Tampa, FL
I have run my football pool for years for my husband and friends. What a headache it has been until now. Thanks for a great service!
–Lisa Kirros, Orange County, CA
What a great experience. Saved me hours of work in Excel. Thanks!
–Michael DeStefano, Poughkeepsie, NY
This is a great marketing tool for those of us that want a lot of people playing. The staff at RunYourPool is great to work with and receptive of feedback.
–Matthew Baizer, Danville, CA