Prop Bet Pools for The Masters
The Masters is a golf tournament unlike any other. In addition to our Masters Golf Pool format, we also offer Masters Prop Bet pools every spring. Because pool members don't need any special sports knowledge or expertise to participate, everyone loves Prop Bet Pools. Now you can run your own ... completely online!
What is a Prop Bet?
A prop bet, short for "proposition" bet, is a bet on an specific events occuring during the tournament, but unrelated to the direct outcome of the tournament. Prop bets are often tied to golfer performance, such as how many birdies they hit in the first round or how many top 10 golfers get cut. However, prop bets can be fun questions unrelated to the game itself.
We have prepopulated 33 of the most popular prop bet questions, so you don't have to! Choose to use all of them or exclude any you'd prefer not to include.
How to Run a Prop Bet Pool
Our Masters Prop Bet pools are very straight-forward:
Invite members to join
Members login to your pool online to make their picks
Members pick what they believe will be the correct answer to each prop bet
Adminstrators can assign custom point values to each prop bet
Masters Prop Bet Pool Samples
The following are samples from our Masters Prop Bet Pool format.
Click to view more detailed samples:
Leaderboard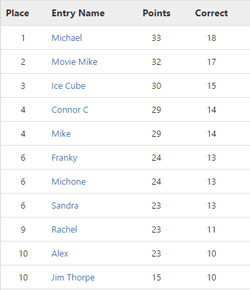 Pick Sheet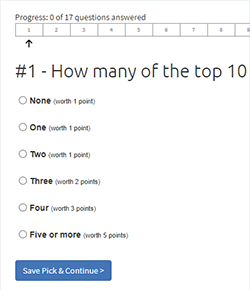 Picks Summary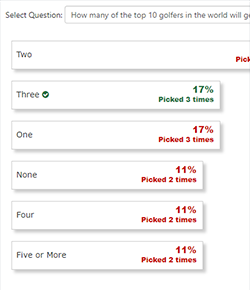 How You'll Save Time
We take over all the difficult and time-consuming aspects of running your Prop Bet Pool:
Prepopulated questions. We have entered 33 of the most popular prop bet questions that you can choose from.
No more collecting picks from your members. Members login to the website directly to make their picks.
No more error-ridden or illegible pick sheets.
No more calculating points and standings by hand. Pool standings are automatically updated.
No more need to distribute the results. Members simply login to the site to see updates.
Brand Your Pool
Add your company or organization logo to customize the look of your Prop Bets pool. For more information, see our Brand Your Pool page.
Private Message Boards
Every Masters Prop Bets pool hosted at RunYourPool.com includes a free, private message board. Your pool's message board, accessible only to your pool members, is a great way to communicate with members.
Start Your Pool Today
No Upfront Fee or Obligation!
Start your Masters Prop Bets pool with us today. If you have any additional questions, please contact us via email at support@runyourpool.com. We're happy to answer any questions you may have.
Masters Prop Bets Pool Pricing
Prices shown are your one time fee for the year.
Included in the cost is the added benefit that we retain your pool information and members from year-to-year. Simply reset your pool next year and have your members log back in to pick again.
| | |
| --- | --- |
| Up to 25 entries | $19.95 |
| 26 to 50 entries | $29.95 |
| 51 to 100 entries | $44.95 |
| 101 to 150 entries | $59.95 |
| 151 to 200 entries | $74.95 |
| 201 to 300 entries | $109.95 |
| 301 to 500 entries | $199.95 |