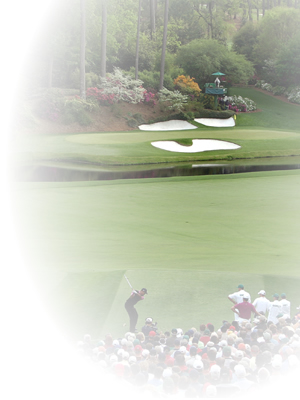 PGA Major Championship Golf Pool for 2021
For golf fans, the Major Championships each year are the most exciting weeks of the PGA Tour season. You don't have to be a golf nut to enjoy our PGA Golf Majors pools, though. Whether you're planning a small pool for family or friends or a large corporate promotion, we'll make running your pool online a snap!
How Do Major Championship Golf Pools Work?
Here are the rules for our PGA Golf Majors pools:
Picks are made for any/all of the major tournaments:

The Masters
The U.S. Open Championship
The (British) Open Championship
The PGA Championship
The Players Championship (the unofficial "fifth major")

For each major tournament, pool members select six golfers. These six golfers make up their Player Roster for that tournament.
The goal is to be the member whose roster performs the best, cumulatively, as a team.
Any PGA Player who does not make the cut will be given the highest score of Round 3 and Round 4, respectively.
Performance is tracked for each Major individually, but also in aggregate for all the Major Championships.
Whether your members are PGA Tour junkies or have never watched a round of golf before, they'll be able to participate and enjoy this exciting format.
Pick and Scoring Options
Pool administrators can choose between two pick sheet options for their pool:
Tiered Pick Sheet—We divide the PGA Tour players in the tournament field into six (6) tiers or flights, based on their current World Golf Ranking. Each pool member chooses one golfer from each of the six tiers.
Salary Cap Pick Sheet—Each golfer will have a salary assigned to them based on their current World Golf Ranking. Participants will be assigned a fixed salary cap they must stay under in order to create their 6-player roster.
In addition to the picks sheet option, administrators also have several other pool setting options available to them:
Dropping worst picks—Administrators have the option to exclude everyone's worst golfer (or golfers) from the scoring system.
Finishing position bonuses—Administrators can optionally create custom bonuses (i.e., subtracting strokes) for members picking golfers who in end up in top finishing positions.
Repicking players—Pools can be set up to allow golfers to be picked again in subsequent tournaments or to limit pool members to picking a golfer only once per season.
PGA Golf Majors Pool Samples
The following samples are just a few of the reports you'll see for your pool. In addition to the report samples you see here, you'll have access to a Tournament Pick Summary, an All Members Picks report, and more! Click to view more detailed samples:
Making Picks
If you choose the tier based pick sheet, your members will be asked to pick one player from each of six tiers (or flights). The flights are based on the World Golf Ranking of the PGA Players in the field for that tournament. For example, Tier #1 will be comprised mostly of players in the Top 10 in the world, Tier #2 of players between 11-20 in the world, etc.
We make it simple and error-proof for your members to make their picks. They will find our Golf Majors pick sheet is simple and intuitive, and will ensure your pool goes off without a hitch. Picks can be made once the tournament field has been entered in our system and can be changed right up until the first scheduled tee time in each Major.
Viewing Picks and the Leaderboard
Once the pick deadline has passed, members are prevented from making or changing their picks. At that time, they'll also be able to see our detailed pick summary reports as well as everyone's specific picks.
The Leaderboard are updated for you automatically during the tournament as the PGA Players complete their rounds. We recommend using the Player Roster stroke total to determine your winner, which is the default sort order in the Leaderboard report. However, if you prefer to use the roster's cumulative money winnings or Fedex points, that data will be there for you and is a sorting option.
In addition to the current Major tournament, we accumulate your standings across all Major Tournaments. This allows you to determine winners for each major as well as a cumulative winner for the entire 2021 PGA Tour Majors season.
What if my members pick PGA Players that miss the cut?
Even the top players in the world sometimes miss the cut at a Major. When your members pick a player that gets cut, that golfer will receive a score equal to the highest (worst) score of the day by a player that made the cut.
Why Choose RunYourPool.com?
The bottom-line answer is we'll save you an incredible amount of time and energy. By letting us do the hard work for you, you'll enjoy your pool that much more.
No more collecting picks from your members. Members login to the website directly to make their picks.
No more error-ridden or illegible pick sheets.
No more worries about pick deadlines.
No more number crunching or messy spreadsheets.
No more need to distribute standings. Members simply login to the site to see updates.
Private Message Boards
Brand your Pool
Add your company or organization logo to customize the look of your Major Championship pool. For more information, see our Brand Your Pool page.
Every PGA Golf Majors pool hosted at RunYourPool.com includes a free, private message board. Your pool's message board, accessible only to your pool members, is a great way to communicate with members.
PGA Golf Majors Pool Pricing
Run your pool with no payment or obligation through the first round of the Masters. After the first round, there is a one-time fee to continue using the service based on the number of active members in your pool. Our price is your one-time fee for the entire PGA Golf Majors season! Included in the cost is the added benefit that we retain your pool information and members from year-to-year. Simply reset your pool next year and have your members log back in to pick again.
Pricing for PGA Golf Majors Pools
| | |
| --- | --- |
| Up to 25 entries | $24.95 |
| 26 to 50 entries | $34.95 |
| 51 to 100 entries | $64.95 |
| 101 to 150 entries | $89.95 |
| 151 to 200 entries | $119.95 |
| 201 to 300 entries | $149.95 |
| 301 to 500 entries | $249.95 |
| 501 to 1000 entries | $399.95 |
| 1001 to 2000 entries | $699.95 |
Start your Pool Today!
Start your PGA Golf Majors pool with us today. If you have any additional questions, please contact us via email at sales@runyourpool.com. We're happy to answer any questions you may have.