Restaurants & Bars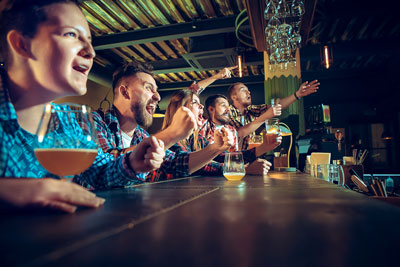 Looking to increase your sales?
The food service industry often relies on their "regulars" as the lifeblood of their business, but with lots of competition and rapidly changing trends, it can be tough to keep your business at the forefront of customers' minds. How can you get them to come back and spend more without making them feel pressured?
Our sports pools are a great way to keep customers engaged and coming back to your establishment, and with our new location access requirements, you can ensure that they must physically be at your location in order to make picks, view reports, or access any pages at all (customizable to your needs). Options for patrons to use their mobile devices, or a tablet/computer located at the establishment.
Here are some scenarios our customers are using to increase foot traffic at their establishment:
Weekly NFL Pick 'em Pool: Free to play, weekly winner gets a free dinner, seasonal winner gets $250. Members come into the establishment on a weekly basis to submit their picks and view reports/standings. This encourages them to come in before/during/after games on Thursday, Sunday, and Monday, or in the days following the games.
Weekly NFL Squares Pool: Set up a weekly squares pool for Monday Night Football or for your clientele's favorite team where customers have to be present to win. Winning square each quarter gets a free drink.
March Madness Bracket Pool: Members can submit their bracket from home, but must be present at your facility to view the reports/standings. This encourges members to come in daily during/after games to view their position in the standings. Tournament winner gets a $250 gift card.
If you're interested in setting up a pool using our location access functionality, or if you have any questions, please contact us at sales@runyourpool.com.