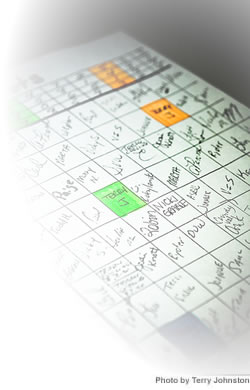 Baseball Squares Pool
(MLB Postseason Only)
Also known as Block pools, Grid pools, or Box pools, you're probably familiar with this format from its Super Bowl popularity. Now you can create a Baseball Squares pool for any series in the postseason, including the World Series. Your members can pick their squares online, and view the completed grid - no need to pass around a sheet of paper!
Options for Pool Commissioners
RunYourPool.com gives Pool Commissioners numerous options to make your Squares pool as flexible as possible:
Any series of postseason games—Each grid will cover all in games in a series between two teams
Easy grid setup—You can create a new grid at any time, even if the teams haven't yet been determined. Create grids ahead of time to ensure full participation.
Multiple grids per pool—Add new grids to your existing pool in seconds. They'll all be handled under a single login for you and your members.
Multiple sets of numbers per grid—Choose to have a single set of numbers, or one set of numbers for EACH game.
Maximum pick count—Administrators can specify the maximum number of boxes that a member can pick. This number can be different for each grid in a pool.
Pool Commissioners have a ton of flexibility in how they want to run their grid(s). Whether you want to run a grid for the World Series, or for each series in the playoffs, you can do it all from within a single pool. Your options are wide open.
How Do Baseball Squares Work?
The name of this type of pool comes from the 100 squares that comprise the pool's board. The board is a 10x10 grid of boxes where each row and column are assigned a number from 0 to 9. You can choose to declare winning squares however you'd like, however most people simply use the final score from each game where the last digit of both teams' score is compared to the grid to determine a winner.
Picking Squares
MLB Squares pools are very simple and don't require any baseball knowledge to participate. RunYourPool.com makes the process of picking squares simple. Members simply login to the website and click the square(s) they want, or you can simply enter their name for them. You'll have no more issues with squares containing illegible names and members will be unable to pick more squares then your pool allows.
Pool members see the squares grid and all other pool members picks online, in real-time. The completed squares grid can also be printed out and distributed so members don't need to be near a computer to see who has won.
Add your company or organization logo to customize the look of your pool. For more information, see our Brand Your Pool page.
Every MLB Squares pool hosted at RunYourPool.com includes a free, private message board. Your pool's message board, accessible only to your pool members, is a great way to communicate with members.
Your pool can contain an multiple grids. The total cost to run an MLB Squares pool for up to 100 members is
$14.95 PER GRID
, which include all games in the selected series.
Included in the cost is the added benefit that we retain your pool information and members from year-to-year. Simply reset your pool next year and have your members log back in to pick again.
Start your Pool Today!
Start your MLB Squares pool with us today. If you have any additional questions, please contact us via email at
sales@runyourpool.com
. We're happy to answer any questions you may have.