NFL Power Ranking Playoff Pools for 2023
Simple enough for anyone to play ... challenging enough for the most die-hard football fans.
Whether your regular season office football pool has ended or you're looking for a different pool format for the post-season, our NFL Power Ranking Playoff pool is a great option.
What is a Playoff Power Ranking Pool?
NFL fans are familiar with the term "Power Rankings". It refers to a listing of teams from strongest to weakest, whether based on statistics or perception. This NFL playoff pool format is based on the concept of ranking all the NFL playoff teams:
Pool members rank all 14 NFL teams competing in the NFL Playoffs from strongest (14 points) to weakest (1 point)
Members are awarded the number of points assigned to an NFL team when that team wins
Administrator's can configure their own progressive point system, by setting up a point multiplier for each playoff round (see Scoring Options section below)
Note: NFL teams that have earned a bye in the first week will not get any points for that week
NFL Power Ranking Playoff Pool Samples
The following samples are just a few of the reports you'll see for your Power Ranking Playoff football pool.
Click to view more detailed samples:
Leaderboard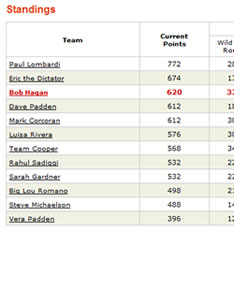 Pick Sheet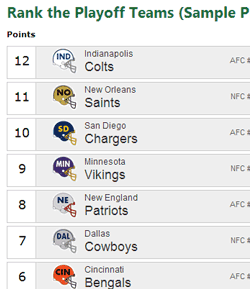 Member Picks Report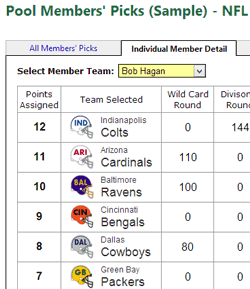 Scoring Options
Pool Commissioners, when setting up their pool, may choose to keep their scoring system simple or create a custom scoring matrix.
Option #1 - Simple Scoring
With this option, a member will receive the number of points assigned to a team each time that team wins. A winning team is awarded that number of points regardless of which playoff round the win comes in.
Option #2 - Custom Scoring
With this option, Administrator's can create a custom multiplier for each round of the playoffs. A member will receive the number of points assigned to a team TIMES the multiplier assigned for that round.
| | |
| --- | --- |
| Round | Multiplier |
| Wild Card Weekend | 10 |
| Divisional Playoffs | 12 |
| Conference Champ. | 14 |
| Super Bowl | 15 |
Example: The Administrator point multipliers are shown to the left and his pool's scoring matrix is to the right.
In this custom scoring example, if pool member assigns 9 points to the Indianapolis Colts, the member is awarded 108 points when the Colts win their Divisional Round game. When the Colts go on to win the AFC Championship game, the member is awarded another 126 points.
Points
Assigned
Wild Card
Division.
Conf. Champ.
Super Bowl
14
140
168
196
210
13
130
156
182
195
12
120
144
168
180
11
110
132
154
165
10
100
120
140
150
9
90
108
126
135
8
80
96
112
120
7
70
84
98
105
6
60
72
84
90
5
50
60
70
75
4
40
48
56
60
3
30
36
42
45
2
20
24
28
30
1
10
12
14
15
Making your Playoff Pool Picks
It can be difficult to find a playoff pool format that is challenging enough for your knowledgeable members, yet simple enough for everyone to join. RunYourPool's NFL Power Ranking Playoff Pool format meets both these needs nicely. In it's simplest form, members can just rank the 14 playoff teams and their done. You're more serious members will need to think about the history of Wild Card teams, the effect of your custom scoring system, and consider how to rank teams who received a bye in the first round.
Our error-free pick sheet ensures all your members get their picks in properly.
We Can Save You Time This Post-Season
Running your NFL Playoff Pool couldn't be easier:
No picks to collect. Members login to the website directly to make their picks.
No more pick sheet mistakes. So easy, a kindergarten student can do it!
No calculation errors. We'll do the heavy math for you.
No more need to distribute standings. Members simply login to the site to see updates.
Start Your Pool Today
No Upfront Fee or Obligation!
Start your NFL Power Ranking Playoff pool with us today. If you have any additional questions, please contact us via email at support@runyourpool.com. We're happy to answer any questions you may have.
Pricing
We've recently upgraded our pricing structure to introduce a free tier! You can view the new tier structure on our Pricing page.
Brand Your Pool
Add your company or organization logo to customize the look of your Power Ranking Playoff pool. For more information, see our Brand Your Pool page.
Private Message Boards
Every NFL Power Ranking Playoff pool hosted at RunYourPool.com includes a free, private message board. Your pool's message board, accessible only to your pool members, is a great way to communicate with members.
Frequently Asked Questions
"Football Pool" is a catch-all term for a group of people competitively guessing the outcome of one or more football games. There are many types of formats, each assigning winners differently. They can be played informally between friends or through a more formalized system. They are often considered a great alternative to fantasy football given the ease of playing.
In a power ranking play off pool members rank all 12 NFL teams competing in the playoffs from strongest (12 points) to weakest (1 point). Picks are made only ONCE before any games begin. Members are awarded the number of points assigned to a team when they win. Commissioners can optionally set up a point multiplier for each playoff round.