Table of Contents
Every week in the NFL, nothing makes any damn sense.
It's why we love it. It's why we can't get off the intravenous drip. It's why we're compelled to watch garbage teams playing in prime time.
But there comes a time in every fan's life where they need something to make some semblance of sense. That's why on Fridays, I'll be looking at the upcoming week's toss-up games ATS, according to RunYourPool VIP data (which you can sign up to access with a VIP account here). I'll throw some numbers at you, they'll make sense, and then we'll all win our pools.
Importantly, too, I'll start every subsequent week's column with a look at the previous week's results and hold myself accountable so I can be mocked on Twitter. It's important to stand by your principles, after all.
DVOA data from Football Outsiders
Team grades data from Pro Football Focus
Raiders @ Chiefs
Las Vegas Raiders (+6.5) – 52%
Kansas City Chiefs (-6.5) – 48%
I get what you're thinking here: it's a divisional game, the Raiders seem to have figured out how to deal with Patrick Mahomes, and the perception is that they can keep pace in a high-scoring game. Sorry folks, that's wrong. The Chiefs are eighth in overall DVOA and just put up 41 points on the fourth-best defense in football a week ago. Las Vegas, on the other hand, is 22nd in DVOA and their offense consists (much like the Rams) of targeting a single receiver 8,082 times a game and hoping one of them will break through a two-deep shell. Meanwhile, the Raiders and the Buccaneers are similar in offensive DVOA and even if the Raiders score four or five touchdowns they'll still be two possessions behind. This is an easy swing for the Chiefs.
Do you think Josh McDaniels has any sort of logical plan for this?
The F@4 Pick: KC -6.5
Bears @ Vikings
+7.5 Chicago Bears 52%;
-7.5 Minnesota Vikings 48%
Have y'all seen the Bears offense? Truly sat down and watched these grown adult professional football players attempt to move a football within the structure of an NFL game? I doubt it. This team has the worst-graded quarterback in football who runs an "attack" that's the absolute worst at:
Passing first downs/game
Completions/game
Passing yards/game
Overall passing offense grade (43.5)
Overall passing offense DVOA (-33.9%)
Sacks allowed percentage (19.28%)
Nineteen percent! Think about that. If you opened your front door and someone punched you in the face once every five times, wouldn't you try a different door? Run through a plate glass window, stay in bed, literally anything other than opening the door. The Bears are the Bears. The gap between Justin Fields and Kirk Cousins is bigger than the gap between me and Ryan Gosling, people. Giving the Bears this kind of line isn't just generous, it's downright criminal. So the Bears can't throw, but can they defend against Justin Jefferson? Their 20th-worst graded pass coverage unit and 27th-ranked first-half scoring difference say probably not. They'll be in an early hole and die there, along with your cover.
The F@4 Pick: MIN -7.5
Texans @ Jaguars
+6.5 Houston Texans 50%
-6.5 Jacksonville Jaguars 50%
It was rainy. It was a slog. It was five turnovers en route to blowing a two-touchdown lead. Still, the Jaguars are fourth in team DVOA. The Texans are 31st, ahead of only those rock-chucking Bears. In what universe are they staying with the Jags? Sure, you might think Houston looked frisky and made the game against the Chargers interesting toward the end, and I'll grant you that. The same Chargers team, remember, that got housed by those Jags 38-10 the week before. The worst PFF unit grade on Jacksonville's resume is tackling, but Houston simply doesn't have the playmakers or even the basic offensive competence to take advantage and stay within a touchdown:
30th in overall offense
31st in third-down success
22nd in run blocking
That's, uh. One way to do it, Pep. It certainly is.
The F@4 Pick: JAX -6.5
Steelers @ Bills
+13.5 Pittsburgh Steelers 48%
-13.5 Buffalo Bills 52%
Nothing's more fun in the league right now than everyone's uncle making the "Pickett Picked Off" joke, and I get it. Picking (pun intended) on the rookie is fun. When your greatest career accomplishment is being better than Mitch Trubisky, expectations require some tempering. Kenny Pickett threw three interceptions against the Jets last week, and the Steelers allowed a comeback win. To the Jets. The Bills remain first in team DVOA, while the Steelers find themselves 21st. Shockingly, PFF grades the teams back to back, at eighth and ninth, so I can see how folks might be tempted to call this one a toss-up. That said, while the Bills are pretty bad running the football (31st) they're unsurprisingly efficient and successful passing the ball (5th), and the Steelers…don't have T.J. Watt and are middle-of-the-pack in pass rush success and pass coverage. The Bills can score in bunches at 2.63 points per drive, and the Steelers can't score at all. Easy money.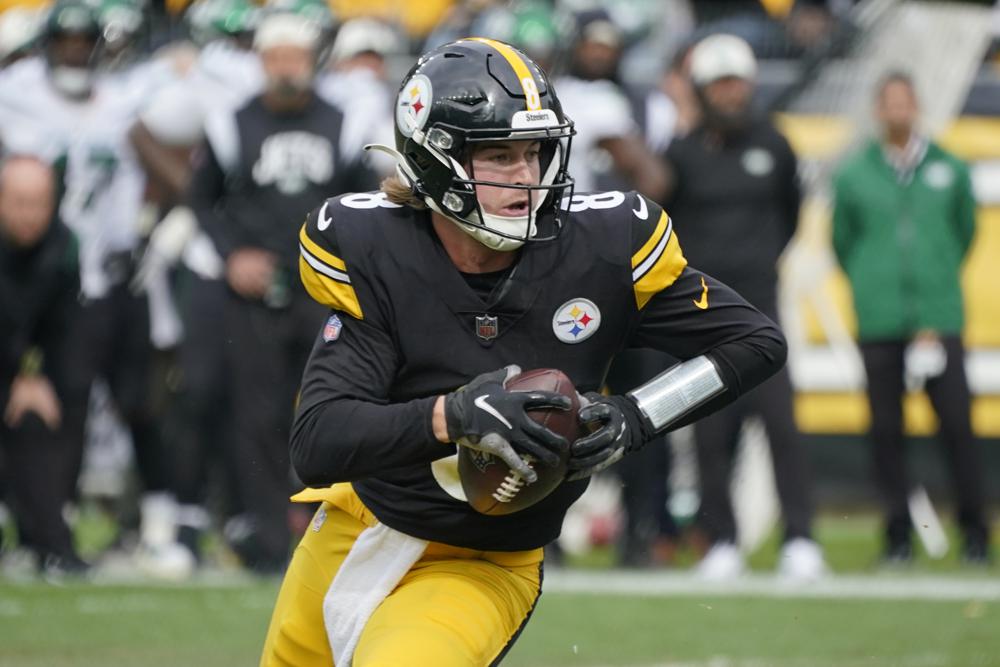 The F@4 Pick: BUF -13.5
Friday Fifth:
And if you're picking underdogs, the data points to a handful this week. My choices?
Seattle (outright), Detroit (+3.5), and both Ohio squads (CIN +3.5 and CLE outright).
Now go have a beer. You've earned it.